We started our week with a very arty afternoon on Monday! In keeping with our Coastline topic, we started by looking at artists that have painted sea themes, including Abraham Willaerts (Stormy Sea, 1629), Hokusai (Great Wave of Kanagawa, 1829–32), William Turner (Snow Storm, 1842), Gustave Courbet (The Wave, 1869) and Claude Monet (Stormy Sea in Étretat, 1883). After noticing this common theme, we then explored the similarities and differences between the paintings, identifying common colours and textures.
We learnt that texture is the look and feel of a surface and that painters use a variety of techniques to create different textures – such as using brushes of different sizes and shapes, using their fingers, layering colours on top of each other, scratching through paint to reveal the colours underneath, twirling brushes and adding white highlights for a shiny effect.
We had lots of fun experimenting with different techniques before creating our own wave-themed artwork. Take a look at the gallery below – can you spot some of the techniques we have used?
In other news, we have started our new writing unit on poetry. On Monday, these clues were revealed from our poetry sack…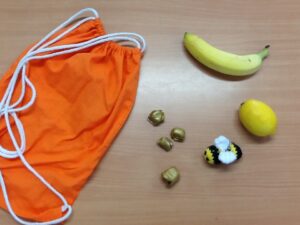 After making links between these items, we listened to our new model text, 'Yellow'. As well the colour yellow, we noticed another theme within the poem – senses. Later in the week we had fun working reciprocally to link a new colour to each different sense, before planning our own colour poems. We can't wait to read your innovated poems next week!