We learnt another new game today called 'crocodile, crocodile, may I cross?'   It had us pretty breathless but laughing lots!  A couple of times, all the children were chasing one adult!
Then we went to do some pond dipping, which was especially interesting as the pond had frozen over.  At lunchtime, Mrs Butler had makes some holes in the ice so we could do some dipping! We then used an identification key to see what we caught.  We got a pond snail, various sized midge larvae and either a daphnia or a water flea.
Then we became fascinated by the ice!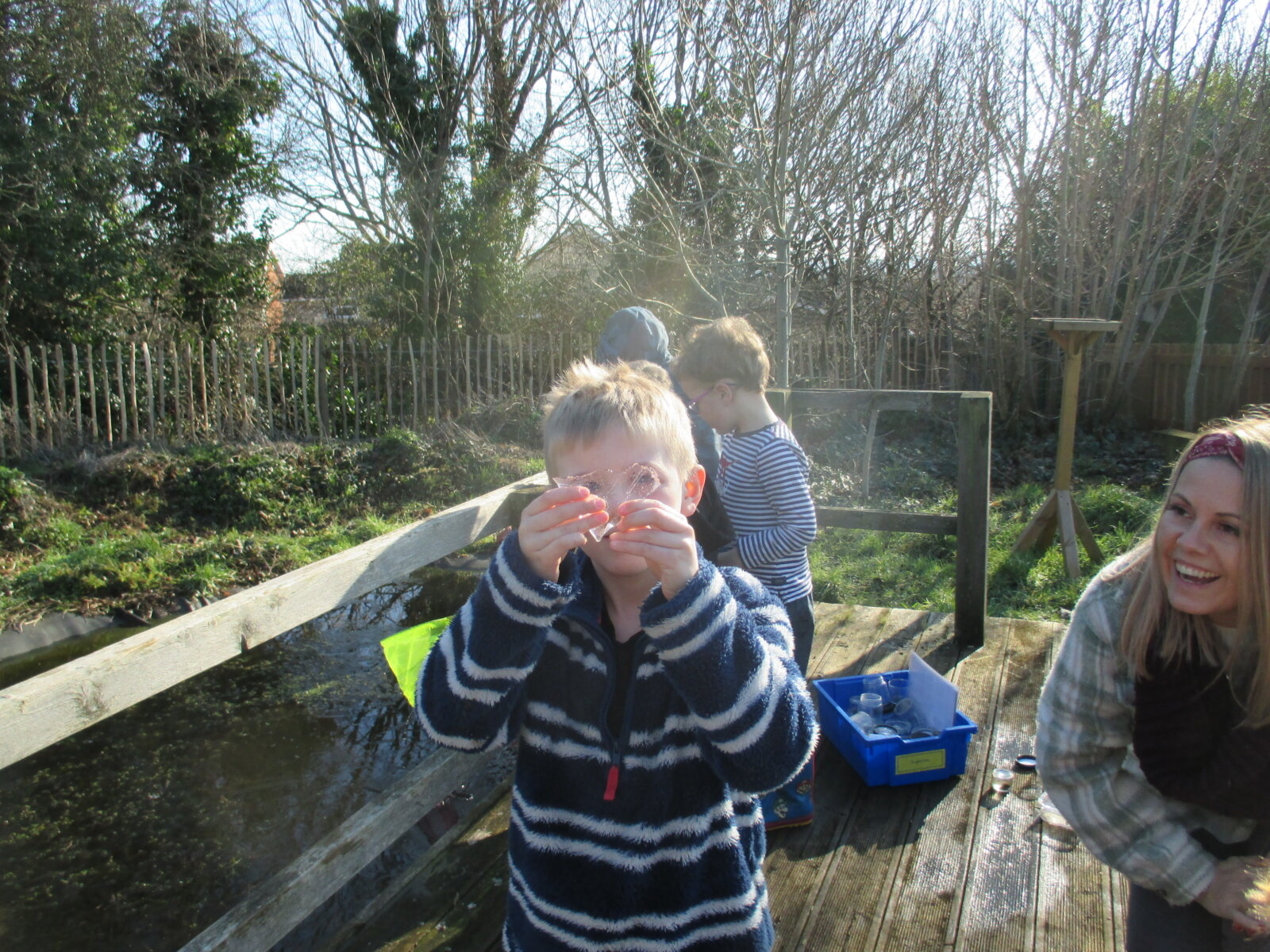 Do you like our nature inspired valentines cards?  We also showed the birds how much we love them by making a heart shaped feeder for them to enjoy over half term!
Some of us really showed determination and persevered with fire lighting.  Most of us have managed to get sparks now and some, have managed to light the fire.  Fantiast fire skills!
The slack line was higher this week as the children wanted to challenges themselves after managing to complete it last week.  It was hard enough even to get on there, let alone walk across.  It was so lovely to hear children encouraging one another and being really positive.
I have set a challenge for the Forest Schoolers  over half term term – it is to visit a woodland or outdoor space and enjoy being outdoor, even if it is raining.  While they are there, they could play a game or teach one of our Forest School games to their family.  Also, they can be mindful and  listen out for 5 different sounds in nature and look for 5 different colours in nature; this is what we did in our 'Magic Spots' today.  From blue skies, green grass, brown bark to white bird poo, we were being aware, being present and just noticing things in nature that are often there, but we might miss in the business of the day.  After half term, our magic spots may start to change as spring is just around the corner.   Spring is considered to be the season of new beginnings and nature starts emerging from hibernation. This season brings new life to flowering plants, trees, and other vegetations.
I cannot wait – I love spring.