We love reading The Gruffalo. We like joining in with some of the phrases:
He has terrible tusks, and terrible claws, and terrible teeth in his terrible jaws.
Doesn't he know, there's no such thing as a gruffalo?
Here we are exploring the setting and characters from the story.
The Gruffalo was the theme for our drawing club this week too – here we are drawing our favourite character.
As mathematicians we have found out about ways to sort objects and how to describe them. The story of The Button Box helped to give us ideas. We then used our button collection to talk about and sort buttons.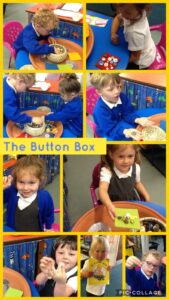 We have also continued with our amazing phonics journey – finding out about i, n, m, and d. We are starting to blend words to read them too.
On Thursday we went in to the hall to try out some cosmic yoga together – an adventure with popcorn the dolphin and some pirates!