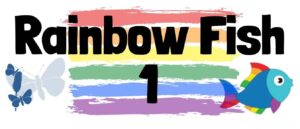 "I've had a really great day!" could be heard as we ended our first week as the Rainbow Fish 1 group.  We've worked well together and have also made the most of the glorious sunshine – luckily we've all had hats, drinks and remembered to apply suncream each day before school.  Well done!
Every day we have enjoyed exploring BBC Bitesize and tweaking it to match our skills.  Did you know that Wednesday was National Writing Day?  As writing is one of our favourite things to do here at Southill, we relished the opportunity to join in with the suggested activities.  We began by discussing reasons why we write, which were:
"To express my imagination"
"To create my own characters and ideas"
"To have fun with stories that will make me and my friends laugh"
"Writing helps me to learn"
"Writing makes me feel really happy"
We then joined in with the 24/7 writing challenge; creating a short story with exactly 24 words in 7 minutes. It was great fun!  We invented lots of interesting (and sometimes a little bit silly) characters such as Stanley the Spider (who made a real-life appearance), giggling giraffes and dangerous dragons who had adventures such as a disco on the ceiling and a tea party at the zoo.  We recommend being resilient and giving the challenge a try at home if you haven't already done so, more information can be found HERE.  It's great fun for all the family (yes, adults too!)
On Wednesday we also had a few extra children join us, a real advantage of being a Rainbow Fish.  We made the most of this by playing lots of games outside which made us giggle, although some were a little tricky – ask us all about our 'sad and solemn day challenge' and try not to laugh!  We bet that you'll find it tricky too …
Another memorable afternoon was spent having fun with a Relax Kids activity called 'Mindful Bubbles'.  We talked about our feelings and when and why we might feel a certain way.  Using a wand we blew bubbles of positivity, calm, happiness, strength, magic, friendship, truth and fun all around the room and even outside on the field.  These were all words that we chose ourselves.  We also blew out negative feelings and popped bubbles of panic, worry, anger and frustration.  This is a really lovely calming activity that we can all relate to and have fun with.  We've even made a display in our classroom reminding us of the techniques that we used.   Did you know that a bubble is also rainbow coloured?!
Well done to all our Rainbow Fish 1 team for embracing each task with a smile and a great attitude, also for treating each other with respect and kindness.  Here are some photos for you to enjoy, we hope that you all have a lovely weekend!