As part of our 'Starry Night' topic, we looked at paintings of night time scenes. We looked closely at The Starry Night by Vincent Van Gogh. We decided to create our own starry night pictures.
We started by covering our paper in colours from the painting, then we used different tools to create swirls and lines.
When our paintings had dried, we added details using fine paint brushes. We are great artists!
In other news…..
Here we are developing our skills and confidence using the large apparatus in the hall.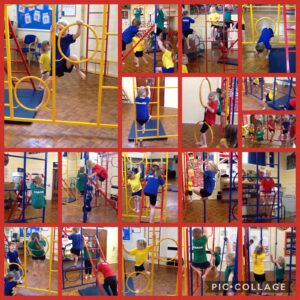 Finally, marvellous mathematicians exploring different ways of making the number 6. We used spots on ladybirds to help us.
Have a look at the home learning ideas on our Reception class page for some more maths fun ideas.