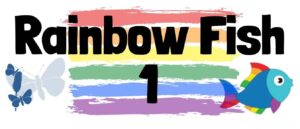 Friday 17th July – a date which once seemed so far away, out of reach, a distant light at the end of an ever-changing tunnel is finally upon us.  How can this be? The time has actually flown by as perhaps we did not anticipate just how much fun we would have together during these unusual days.  It's been really lovely to explore the outdoors and spend more time outside, tweak topics given to us by BBC Bitesize and show off as to just how much we already knew, get crafty with different creations every day and spend time with children we wouldn't normally share a classroom with.  It's been a real treat in fact, more so for the Rainbow Fish who have enjoyed the company of children from different ages and as a result have made new friends – working so well together every single day.  I think we may have been the lucky ones … shhhh …
Our final week has been a creative one.  We've made dolls and dressed them with different coloured and patterned fabrics, origami frogs and fortune telling devices, created outdoor art inspired by Andy Goldsworthy – these are just the highlights. We've also played rounders, had a second go at pond dipping, dug out potatoes in the school garden and tried our hand at following co-ordinates which mapped out symbols to make pictures – just like using a secret code!
It's been lots of fun spending time with Rainbow Fish 1, we've made many memories that will stay with us for hopefully a long time.  Every child has been a true credit to the school and to their families, embracing all tasks with resilience, enthusiasm and a custom smile.  It's also been an honour to get to know you all a little better than we would usually be able to.
Thanks for the memories Rainbow Fish.  Have a lovely summer and good luck in your new classes in September!