We have started our week with a visit from The Sleepy Bumblebee in our classroom! He left us a letter and a story about his sleepy adventure.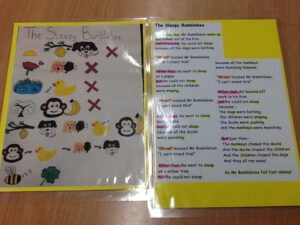 We are enjoying exploring our small world setting of bees! We are excited to learn more about bees over the next few weeks.
At our drawing club we created pictures of the bee and our favourite characters, as well as adding words and sentences to describe them. We will also be writing bee sentences later this week.
In our water play we added daisies.
To finish with, let's celebrate our brilliant reading. The children have made such great progress. Here is a selection of the books we are reading in our groups this week. Which book are you reading?