We have enjoyed exploring our story of the sleepy bumblebee. We have found out interesting facts about bees, explored bees and their habitat outside, created pictures and models and told stories. We have also written about bees and used them as inspiration for many tasks. This week we decided to innovate the story by changing the main character and a few other parts of the story. Here is our new story map. We changed our story to the sleepy snail who lived under a flower pot.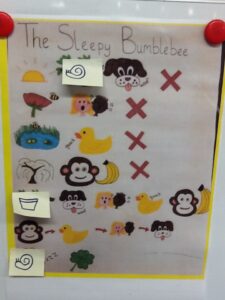 We then came up with our own ideas for a new main character. We used this poster for ideas. Here are some of our character pictures and labels.
This week we were also celebrating the Jubilee. We enjoyed our picnic and delicious cakes! In the classroom there were different royal activities to try out – making crowns, decorating pictures, building palaces and decorating crown templates with jewels.