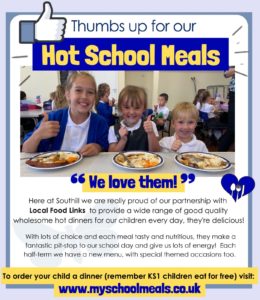 Thumbs up for our hot school meals – we are really proud of our partnership with Local Food Links to provide a wide range of good quality, wholesome hot dinners for our children every day.  They're delicious!  Our new menu is now available and has been sent home, meals can now be ordered up until 10th January 2020 – before our next change of menu.
Don't forget that all children in Key Stage 1 (Reception, Year 1 and Year 2) are entitled to free school meals, for all other year groups each meal costs £2.40.  Our menu has become very popular with children (and staff!) who all look forward to lunchtimes!
If your child has any allergies or special dietary requirements, please ensure you complete the relevant paperwork available from our school office.
All meals must be ordered at http://www.myschoolmeals.co.uk.  For an activation code, please contact our school office who will be happy to help.
🎅🏻Our popular whole school Christmas Dinner will take place on Wednesday 18th December. If your child would like to order a delicious Christmas meal for this special day please ensure that this is completed by Wednesday 11th December 2019.
😋🍽