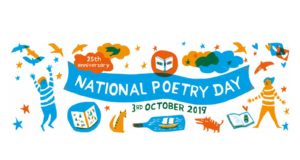 Today's Reading Assembly coincided beautifully with National Poetry Day, which this year has a theme of 'Truth'. What better way to mark the occasion by celebrating the work of two of our favourite poets; Michael Rosen and Rachel Rooney.  Mrs Wood led our assembly and showed us videos of three different poems, read by their authors, each one unique which meant that we all enjoyed them for different reasons.
Our first poem was called 'Newcomers' by Michael Rosen.  This poem didn't rhyme, but instead used the technique of repeating lines to give emphasis to it's meaning.  It also had an element of mystery with 'the man who stayed behind' and truth being written about Michael's own family experiences.  At the end of the video Michael shares tips on writing poetry, which we found very useful.
Our second poem was written by Rachel Rooney and entitled 'Truth or Dare', inspired by a game that she played as a child.  This poem did use rhyme and had lots of thought-provoking content, some of it a little silly which really made us smile.  This poem explored the theme of truth with humour and definitely made us think …
Our last poem by Michael Rosen entitled 'Don't' made us all giggle, so much so that we watched it twice and many of us joined in by reciting along with Michael.  Rhyme was definitely a key element to this poem, along with some really funny ideas!
It's clear that we all really love poetry here at Southill and that we also like a challenge of course, many of us inspired to have a go at writing our own poem using the tips that Michael shared in his video.  He told us to listen to what you feel, talk to people at home and sometimes to get to the truth of a poem you don't need to say everything, instead using techniques such as repetition for example to emphasise meaning.  We would love to see what the children come up with, any completed poems can be given to Mrs Wood and we will try to publish as many as we can – look out for these around our school and perhaps also on our website!
The BEST news of all was perhaps Mrs Wood's announcement that along with our planned KS2 visit to see Michael Rosen at Weymouth Pavilion in November, we are also looking forward to welcoming Rachel Rooney herself who will be coming to our school to work with Year 6 on 13th November.  How exciting!  (gasp)