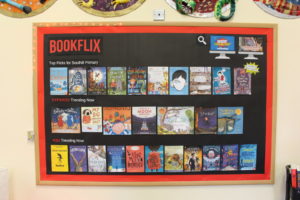 Today's Reading Assembly was all about Bookflix, our brand new 'reading for pleasure' project, which launched today!  Through an interactive display in our school hall, children are able to browse and borrow books based on their very own recommendations.  Included within this are EYFS, KS1 and KS2 trending now titles, also top picks which are books selected based on current topics, 'because you read' or pupil/staff suggestions, etc.
Perhaps one of the most exciting elements to Bookflix, as well as the opportunity to regularly read new and exciting books, is the addition of our very own Cracking Good Reads videos.  We watched a video that Mrs Symonds had made with former pupil Lola, showing us what a digital book review would look like.  She recommended 'The House with Chicken Legs' by Sophie Anderson, which has been added to our top picks section.  Anybody who would like to star in their own video is very welcome to do so.  Application forms are available next to our display, on our website (over on our Bookflix page – link below) or Facebook page.  Everybody who applies will get the chance to appear in their own review, however we can only feature a few at a time therefore they will be spread out over several weeks.  Please do not worry if you are not selected at first, Bookflix is for all and you will most definitely get your turn.
For more information about Bookflix, for current trending titles and an application form to star in your very own Cracking Good Reads video, please visit the Bookflix section to our website:
https://www.southill.dorset.sch.uk/learning/bookflix/
Completed forms should be handed to your class teacher, who will pass to Mrs Symonds for filming.
We are really keen for as many book suggestions as possible so if you have enjoyed a good story that you'd like to recommend please let either Mrs Wood or Mrs Symonds know who will then add it to Bookflix for all to enjoy!