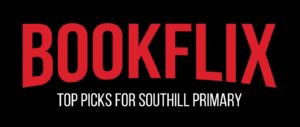 We are bursting with the brilliance of Bookflix, our brand new reading recommendation project, here at Southill.  Through an interactive display within our school hall, children are able to browse and borrow 'trending' books across EYFS, KS1 and KS2 classes based on their very own recommendations.  Also included are regular 'top picks' which are selected stories based on current topics, because you read or staff suggestions, etc.
Perhaps one of the most exciting elements to our Bookflix project, as well as the opportunity to regularly read new and exciting books, is the addition of our very own Cracking Good Reads videos.  Children are invited to star in a digital book review, recommending a story for others to read and to be added within our top picks section.  Here is our latest video:
All children at Southill are encouraged to borrow our BookFlix books, remembering to write their name on the form provided so that we know where the book has gone.  Any children who wish to star in their own Cracking Good Reads video, should complete an application form which is available to download below, copies can also be found next to our Bookflix display.  Completed forms can be returned to our Bookflix display, all applications will be accepted.  Multiple recommendations are also welcome, however in order to include everybody we may need to choose just one book per child over a period of time.  We will be filming these videos each month.
Download application form here: BOOKFLIX Cracking Good Reads Video APPLICATION FORM