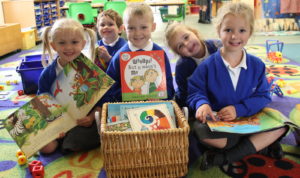 Being able to read is essential for children to be successful in school and beyond. A person who knows how to read can educate themselves in any area of life. At Southill, reading is an integral part of every day. We are passionate about children's literature and encouraging children to love reading and we're proud of the 'buzz for books' around the school. All our children, from Reception to Year 6, have a dedicated reading lesson every day. Our teachers read aloud to children every day and discuss the themes and vocabulary in the books.
Learning to read should be exciting and enjoyable. We only use high quality texts and resources. Staff are reading role models who demonstrate and encourage a love for reading, and children have access to a wide variety of reading materials. We keep up to date with the current trends and new releases in children's literature and we spend hundreds of pounds a year on new books.
In Year 2 and beyond, in addition to the daily read-aloud session and reading activities, children are enrolled on the Accelerated Reader Programme. Children are encouraged to read widely and staff are able to track their progress throughout the year, ensuring that each child is supported and challenged to read at their appropriate level.
We have an annual Book Week as well as a myriad of book themed events through the year. Our most recent events have included book fairs, bedtime story nights, guest authors and even a trip to Bath to see David Walliams!