"Creativity is intelligence having fun." – Albert Einstein
At Southill Primary School, we value Art and Design as an important part of the children's entitlement to a broad and balanced curriculum. Art and Design provides the children with the opportunities to develop and extend skills and an opportunity to express their individual interests, thoughts and ideas. At Southill we encourage children to express their ideas and understanding both individually and reciprocally with others. Below you can see Year 1 working reciprocally on their weather collages as part of their Splendid Skies topic.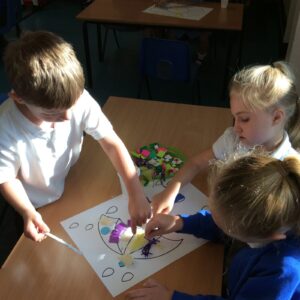 A high-quality Art and Design education should engage, inspire and challenge pupils, equipping them with the knowledge and skills to experiment, invent and create their own works of art, craft and design. As pupils progress, they should be able to think critically and develop a more rigorous understanding of art and design as well as further developing their experiences and techniques using a range of materials.
Art and Design is taught through our Cornerstones Curriculum projects and is planned to ensure that children can build upon their prior learning in order to ensure progression throughout the school. Below you can see some examples taken from Year 4's topic 'Playlist'.  At Southill, all children in Key Stage 2 have their own sketchbook which they build upon and add to year by year. This allows us to see progression and for the children to look back at and reflect upon their Art and Design work in order to improve.
Here the children have started making marks and shapes to represent the different sounds heard when listening to jazz music. They will then have the opportunity to return to their sketch books and complete the piece later in the topic.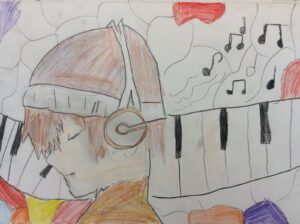 During The Early Years Foundation Stage and across Key Stage One there is a primary focus on children using colour, pattern, line and shape to develop their ideas. Children are encouraged to experiment with an open mind and start to create their own representations of themselves, people and other things. Throughout Key stage one children learn about and compare work by famous artists and begin to create their own artwork inspired by this. Below you can see some self portraits by our Reception class!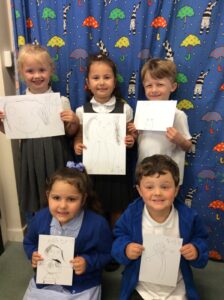 This then progresses as the children move into Key Stage Two where they develop their techniques, including their control and their use of materials, with creativity. All children are encouraged to use their sketchbooks to review and revisit their ideas, making links between their own work and those of famous artists and designers. Below are some examples of ' The Blitz' collages created in year 6 using different materials and layering techniques.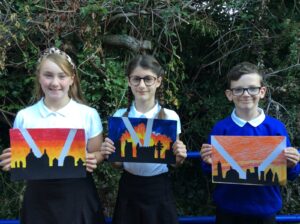 Why not find out more by looking at these recent class blogs!