Welcome to our EYFS Curriculum page. Here you will find out more about Statutory and Non-Statutory guidance, assessment information and how our curriculum is unique to Southill Primary School.
Statutory Framework for the Early Years Foundation Stage:
Setting the standards for learning, development and care for children from birth to five. Click on the link below for our Statutory Framework.
Development Matters – Non-statutory curriculum guidance for the early years foundation stage.
Please click on the link below for more information about our guidance to support us in implementing the Statutory Framework.
There is also further guidance from the Early Years Sector:
Baseline Assessment
Baseline Assessment is a short, interactive and practical assessment of your child's early literacy, communication, language and mathematics skills when they begin school, using materials that most children of your child's age will be familiar with. It is statutory for all schools from September 2021. Click the link below for a guide for parents.
Baseline Assessment Guide for Parents
There will also be an assessment at the end of the Reception Year: The Early Years Foundation Stage Profile. The EYFS profile is completed for every child in the final term of their Reception year, and has three main purposes: to inform you about your child's development, to make the transition to Year 1 smoother, and to help the Year 1 teacher plan a curriculum that will suit all of the pupils in their new class. Throughout their time in Reception, staff will watch, listen to and interact with your child (and the others in their class) as they play and go about their daily activities.  As staff observe your child, they may record what they see by making a brief note, taking a photo or just making a mental note to write down later.
In your Reception child's EYFS profile, for each of the Early Learning Goals, they will be showing that they are:
At the 'expected' level of development OR
At the 'emerging' level of development (in other words, they haven't quite reached it yet)
Don't panic if your child is 'emerging' in one or more goals. It is important to remember that children develop at different rates. If your child is 'emerging', the Reception and Year 1 staff will work together to decide how they can make the transition to Key Stage 1 as easy as possible for them, and how to support them in the coming year.
Early Years Curriculum at Southill Primary School
How do we design a curriculum for the children here at Southill Primary School? What makes our curriculum special for us? We thought carefully about what makes our learning journey special for us and what is important to us. We gathered these ideas together to create our Early Years Vision – this is what you will see happening on a daily basis in our classroom/outdoor classroom. There are six main areas for our vision:
Active Explorers
A Love of Learning
Nature Detectives
Creative Play
Confident Communicators
Wonder of Books
Look out for this display in our classroom.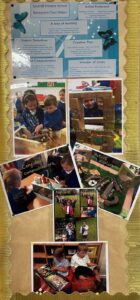 Have a look at our vision in more detail by clicking on the image below: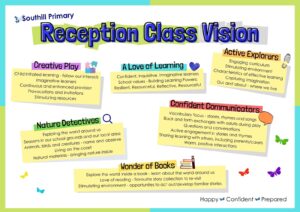 We have also created a possible progression of key skills to consider as we move through the school year. Please click on this image for more information: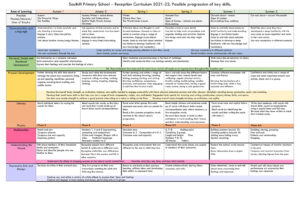 Have a look at our Reception class page for regular updates on our learning journey.