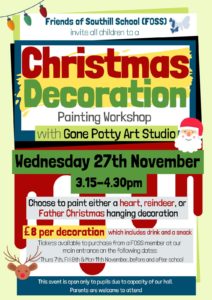 Following the success of last year's painting workshop with the Gone Potty Art Studio, Friends of Southill School (FOSS) are delighted to be able to host another event for all children taking place on Wednesday 27th November 3.15-4.30pm in our school hall.
Children can choose to paint a heart, reindeer or Father Christmas hanging decoration.  Tickets cost £8 (per decoration) which includes refreshments for them too!
Due to restrictions on capacity we are only able to offer this experience to pupils, however parents are welcome to attend.  Tickets go on sale Thursday 7th, Friday 8th and Monday 11th November, before and after school from a FOSS member within our main entrance.
We hope to see you there!
Please note that all decorations will be glazed by Gone Potty and returned to school to be sent home with children on Thursday 5th December.