Our very first batch of Cracking Good Reads digital book reviews have landed!  Featured within this edition are the following titles:
Diary of a Wimpy Kid: The Getaway by Jeff Kinney
The Wonky Donkey by Craig Smith
Mikubon by Ontama
Jacky Daydream by Jacqueline Wilson
The Princess and the Wizard by Julia Donaldson
All of these books have been added to our Bookflix Top Picks selection and are available for all to borrow after half-term.
Thank you to those children who were brave enough to be our first reviewers, you all did a fantastic job at recommending stories that you are obviously so passionate about, we are sure that you will inspire others to give them a try too.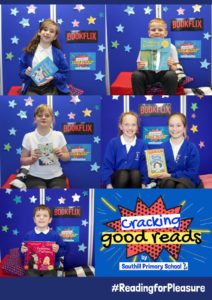 Look out for more Cracking Good Reads after half-term!
Happy reading …