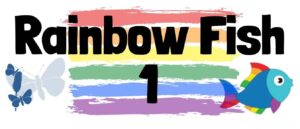 Another great week for our Rainbow Fish 1 group who have yet again approached each and every task with a smile and a great 'can-do' attitude to be proud of.  They've worked well together too which has made our week lots of fun and a pleasure to be part of.  Well done everybody!
Our BBC Bitesize lessons have led us to explore poetry, days of the week, short burst stories, mass and measuring, arrays and a little bit of money too.  We've packed a lot in and had fun exploring all the suggested activities online.  We made good use of the sunshine by experimenting with capacity and volume – using water and different sized containers, we also played nature bingo by collecting different items from the playground and woodland walk (great fun).  We created our own animal fact files, reading our questions to friends to see if they could guess our chosen species.  Some were really tricky!
To round the week off we enjoyed a very exciting pond-dipping session where we managed to find a newt, a few pond skaters and several rather large water beetles.  Some of us had never seen these creatures before, so it was a real pleasure and a great opportunity to be able to have a look up close before releasing them back into the pond.  We made up our own acrostic poem in honour of the newt that we found:
N – nosey
E – exciting and energetic
W – wriggling, wondering, webbed feet
T – terrific!
Thank you for all being such fantastic learners, kind friends and for yet another great week to remember.  We hope you all have a lovely weekend.  Here are some photos to enjoy: