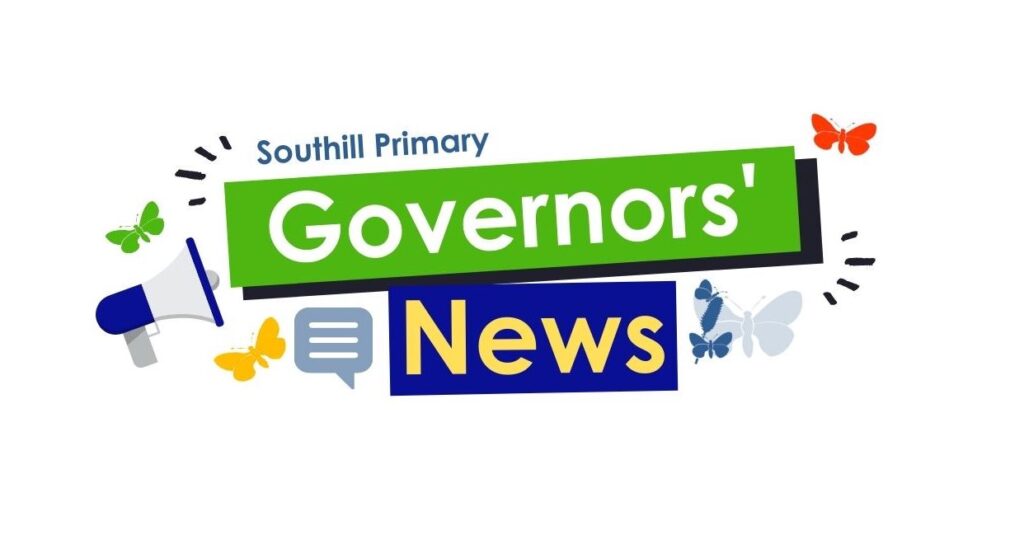 Summer Term 2022
Welcome to the Governors' News, where we hope to keep parents and carers up to date with our progress, and hopefully give you an insight to what we do!
Governors are responsible for overseeing the management side of a school: strategy, policy, budgeting and staffing. They enable their school to run as effectively as possible, working alongside senior leaders and supporting teachers to provide excellent education to children.
What's in this issue?
Visits taken place this term
Who are we?
Wellbeing
Community Engagement
Forest School is coming to Southill
Well done Southill!
1.       Visits taken place this term
Maths Visit: 4th May
English Visit: 17th May
SEND Visit: 17th May
Wellbeing: 17th June
Safeguarding: 18th July
2.       Who are we?
Each blog, we'll introduce two Governors and what their roles on the board are. Our next two are….
Rev Jo Haine – Co-opted Governor

I joined the Southill Governing board in January 2022. As the Vicar of Emmanuel Church, I live and minister in Southill and I am committed to seeing this community thrive. Prior to training for ordination, I worked for 16 years as a Mental Health nurse, and I continue to be passionate about the health and well-being of people of all ages. I love that Southill Primary is an Outstandingly Happy school and the positive thinking and wellbeing focus within the school is fantastic. I am married, have two secondary school aged children and a dog! Do say hello if you see me walking around Southill.
Since moving to the community in 2018 I have been privileged to get to know the children and teachers at Southill Primary school through school assemblies and special services. As a community leader and with my previous experience in mental health, I hope to bring these services to the Governing Board. I hope to bring these skills to the Governing board.
Link Governor for:
SDP Workstream
Power Life Skills: Wellbeing
---
Rebecca Sanderson – Parent Governor

Both my children attend Southill School, one very recently in the Reception class. The school currently promotes some good core values with their Building Learning Power ethos and are great at encouraging positivity and kindness. I would like to help the school continue to build upon these themes and make sure they can provide the children with the right skills and enough confidence to see them through to secondary school, whatever their background, diversity, special education needs or disabilities.
I believe that close links between the school and parents have a significant impact on each child's achievement and attainment at school. A successful relationship between the two provides parents and staff with the opportunity to exchange views, work together and develop a mutual trust and confidence.
I live locally in Southill, volunteer for FOSS as their Secretary and am a happy crafter and messy cake baker.
Link Governor for:
Core Roles & Responsibilities
SDP Workstream
Power Life Skills: Maths
Community Engagement
---
3.       Wellbeing
Since starting with us at the beginning of the year, Reverend Jo Haine has provided great insight into wellbeing and mental health, which has been high on our agenda this year. She has joined one of our parent governors, Sheena Chamberlain, to work on the Wellbeing workstream as part of the School Development Plan.
The Wellbeing team have developed a strategy to support the mental health of both pupils and staff. Jo has provided some great advice on how to support each other within school, using her expertise and background in mental health.
Mrs Wood is our new mental health lead and has recently attended several training courses, alongside Mrs Trimmer, and we hope that this will bring huge benefits to the staff, providing professional support to each other. Jo has also offered a listening ear to any staff who may need it.
4.       Community Engagement
One of our workstreams has been looking at our community engagement and how it can be improved. We are hoping to be more available to parents, carers, and grandparents. We recently welcomed the new Reception parents and children to our school at their new starter sessions and were available to answer any questions they may have had about the school.
We hosted a Community Plant Swap back in May, with the support of Mrs Wood and Mrs Sharpe. We enjoyed welcoming the community to our school and chatting to them. Many residents came to swap plants, chat with friends, and enjoy some refreshments on a very warm day, and all generously donated to the school. We would like to say a huge thank you to all staff that attended to support this event. We were a little nervous as it was our first plant swap, so to have members of staff attend really made a difference. We hope the school continues to be a part of the strong sense of community within the area. It was a successful event, one that we will repeat!
We also recently organised our first DIY SPS weekend, where we asked the local community for support to give our outdoor spaces a much-needed spruce up. We had great support from parents with some DIY or trade skills. We also had an overwhelming response to our pleas for help from local shops, who have very kindly donated a lot of the materials needed to carry out our DIY days. Lots of painting and gardening took place, and we're hoping to also repair the pond and outdoor classroom over the summer holidays, ready for use in September when the children return to school.
Thank you to everyone who came and worked hard in the heat!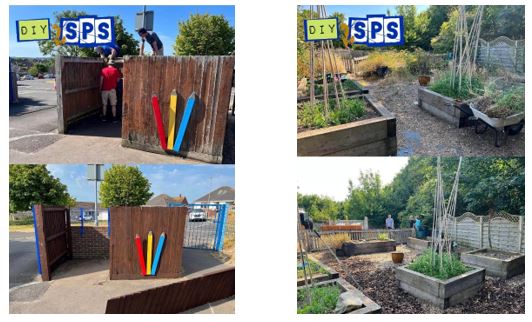 5.       Forest School is coming to Southill
Our wonderful Mrs Butler has been working hard this year to train as a Forest School leader. This is a big piece of work for someone to complete, however, we're all looking forward to what it will bring for the school in the new school year and how it will support our children to take part more regularly in forest school activities.
This is what Mrs Butler has to say about our exciting new adventure with Forest School:
"Fire lighting, fire pits and cooking. Den building, playing and teamwork. Resilient, confident, and independent learners. Supported risk taking alongside child-centred learning and creativity. Using natural resources for inspiration to enable ideas and to encourage essential motivation.
All of this, plus a qualified Forest School Leader, can only mean one thing: masses of fun exploring and learning in the natural environment around our wonderful school grounds.
I cannot wait to get started in Southill's Forest School journey in the Autumn Term. Wrap up warm… hold on tight… It's going to be a fantastic ride!"
We're so excited to have Forest School at Southill next year. Southill will be one of the few schools in Dorset to be able to teach forest school in-house, so thank you to Mrs Butler for wanting to take on this challenge. We wish her lots of luck in continuing to achieve her level 3 in Forest School Leadership.
Work setting up the forest school area has already started, with the fire pit being built at the recent DIY SPS event.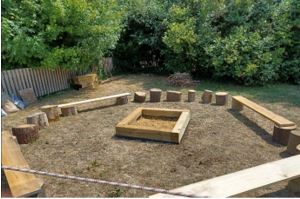 6.       Well done Southill!
Lastly, we wanted to finish by saying what an amazing end to the year we have had, with some outstanding assessment results from all our children. The staff have put in a stupendous effort to support children through the pandemic and post-pandemic to continue to support the children to achieve their very best. Parents, carers and grandparents have been an important part of that, working with the school to promote a positive learning experience by encouraging children to have a love of reading and take part in home learning. By working as a cohesive unit, we can show our children that anything is possible!
We hope everyone has a good summer holiday, ready to return refreshed for the new academic year!