Testing, testing
May is always an interesting time of year for primary schools as it is the time for national tests to be carried out in Year 2 and Year 6.
In Year 2, the children have to do a Reading and Maths test at some point during May. The Year 2 teachers are very good at managing these and include the tests carefully into their normal teaching. The teachers then use the tests to help them make their own assessments of children's attainment at the end of the year.
Year 6 SATs are a bit different as we had to send everything off for marking. Again, the staff made everything as stress-free as possible, and we were very pleased with how the children responded to the test experience. They had a well-deserved recovery afternoon on the field with pizza – so it can't have been that bad a week for them!
In both cases, children's results will be shared with parents before the end of this term.
Departing staff 1: Toby Price
It is with great sadness that I inform you that Toby Price, teacher at this school for over 20 years, has announced his retirement at the end of this school year. Mr Price has been at the school longer than any of us, and has even taught some of our teachers when they attended Southill as children! I know many of you in the wider school community have also been lucky enough to have been taught by him. He has given a great service to the Southill and Weymouth communites for such a long time that I think he is practically irreplaceable! His will be a sad loss to us all.
Departing staff 2: Kirsty Maitland
Miss Maitland is also leaving at the end of the year. She has been with us for nearly two years and made quite an impact with children and staff. She has contributed brilliantly to the school over the difficult pandemic years, proving to be a reliable, hard-working and kind member of the team. Miss Maitland is moving to London to continue her career. Whatever school she ends up in, they will be lucky to have her.
Support for children with special educational needs
We have received this email from the Dorset special needs advisory service (SENDIASS), asking us to share their website with interested parents:
"Below you will find a link to our new website, which went live on 3rd May following feedback about the old website. We have tried to include a wide range of information to support parents and professionals with navigating the SEND process, which can often be overwhelming for families."
https://www.dorsetsendiass.co.uk/
Weymouth Neighbourhood Plan
Year 5 and 6 were visited recently by a representative from Weymouth Town Council who was looking to consult with young people about the Weymouth Neighbourhood Plan. Our children were evidently very helpful, as her email to me attests: "Please could you thank Southill Primary School Year 5 and Year 6 classes for the excellent ideas that they came up with to help with Weymouth Neighbourhood Plan – some of the ideas were shared at our Steering Group meeting last night!
I thoroughly enjoyed visiting Southill Primary school and was really pleased that the resources prepared were met with enthusiasm. I will do my best to keep you up to date with the Neighbourhood Plan as it evolves, and thank you personally for making me feel welcome."
Well done Year 5 and 6! Let's hope some of their ideas make it into the plan itself.
BT Home Essentials
Did you know that BT have a low cost tariff for a fibre broadband and call package for those in receipt of Universal Credit? If you are interested, please go to https://www.bt.com/broadband/home-essentials
Poppy Appeal
Admittedly some time after Remembrance Day itself, we have this week been sent a thank you card from the Royal British Legion. With your support, the school raised £287.24 towards the RBL's welfare and benevolent work. Thank you everyone.
The Queen's Platinum Jubilee
Many thanks to FOSS and the school staff for organising our jubilee celebrations on Tuesday afternoon. The school staff provided the cakes, in many cases making them at home over the weekend. I am very grateful to them for their time and effort given so willingly to the school in this way. FOSS then ran the whole event, pouring drinks and serving cakes to everyone through the afternoon. A great team effort which would have impressed the Queen herself, I think. Thank you to everyone involved.
Our final part of our jubilee celebrations occurs tomorrow, with school being shut and the half term holiday starting a day early. I hope you all enjoy the holiday and any jubilee celebrations of which you are part. I look forward to seeing everyone back at school on Monday 6th June at 8.45.
---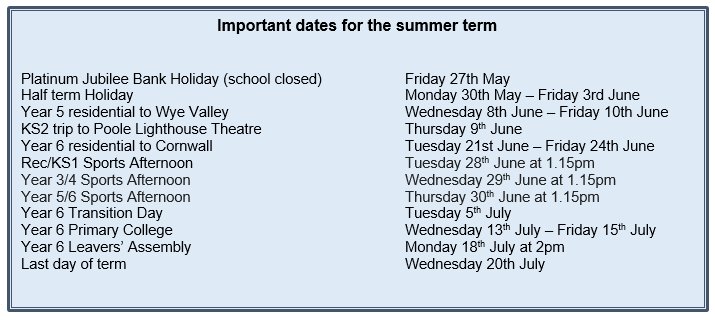 ---
Other messages for parents and carers