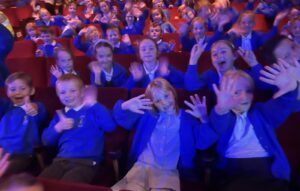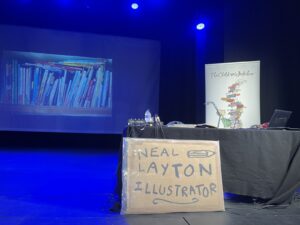 Years 3 and 4 have been incredibly fortunate to visit Weymouth Pavilion this morning and listen to author/illustrator Neal Layton talk about his work, read us some of his stories, do some live illustrating on stage and even perform a rap! It was awesome!
He began by telling us that he likes to use lots of different media in his illustrations and showed us how he builds up a picture using ink, photographs, watercolours, felt tips and coloured pencils. Using a visualiser on screen we could see all the stages of drawing the character Stanley from Stanley's Stick. It was brilliant to see drawings come to life on the page. He read us the story of Stanley's Stick and even played saxophone on a stick!
Then he talked to us about his book The Tree. He read it to us and talked about how long it took to write and how it evolved in the process. We even got a sneak preview of his sketch books and initial drawings as the book took shape. Amazingly, all children got to take home their very own copy of The Tree to keep.
We were able to ask questions and then the performance finished with a very entertaining rap of the poem School Library by James Carter which we absolutely loved as we have our own brand new school library. On the coach on the way back to school the children continued to chant the chorus 'School Library, School Library'!
What an inspirational, educational and entertaining morning! We have lots of Neal's books in our school library so check them out. Maybe they'll inspire you to become an author/illustrator?…