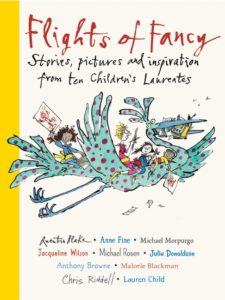 Today it was the turn of Mr Mason to host our special assembly dedicated to Reading for Pleasure, who read to us from a book entitled 'Flights of Fancy: Stories, pictures and inspiration from ten children's Laureates'.  This was a great book and included content from Quentin Blake, Michael Morpurgo, Jacqueline Wilson, Michael Rosen and Lauren Child (to name just half) which really excited us all!
Mr Mason chose an excerpt from Anne Fine entitled 'My Home Library'.  In it, we discovered the meaning of Latin phrase 'ex libris' (see if your child can remember) and looked at examples of bookplates, which are designs made for the inside cover showing the book's owner, in many different formats.
As you can imagine, ideas and inspiration bounced all around the hall as we discussed what might be on our very own bookplate, many of us keen to give this a try.  We would love to see what the children come up with, guidance and a few templates can be found at http://www.myhomelibrary.org and completed bookplates can be brought into school for the attention of Mr Mason.
---
Update: Many children have told me they have downloaded bookplates from the Home Library website. This is understandable – they've been drawn by lots of actual illustrators of children's books.
Some children have designed their own bookplates. Here's a great example:
and this one has been created especially for Mr Mason's home library. Thanks Scarlett!