We get so excited every time Jack Frost visits and we are fascinated with the ice and frost patterns we see. We decided to create winter pictures for Jack Frost – see how much they sparkle! We also decorated a winter tree and explored using chalk to draw cold pictures.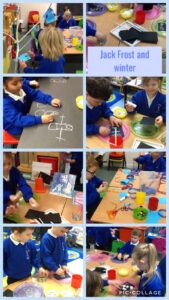 Continuing with our winter theme, we tried some snow writing to help us with correct letter formation. Look out on our home learning this week where there are our handwriting phrases to help if you try this at home. (The snow in the trays is actually salt!)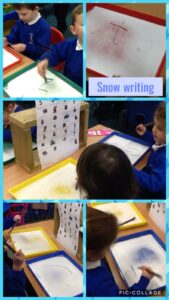 We have been talking about capacity, using words such as full and empty whilst playing with water and also filling boxes and pots with small items. We tried this outside when we each took a tiny box with us to see how many tiny treasures we could collect in our box.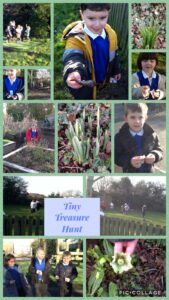 As you probably know by now, we love bird watching together. We have put bird feeders outside our big classroom window and we love it when birds visit. This is our friendly robin who visits us every day for a feast.
Have a look at our home learning to find out about an exciting bird watching adventure!