This week we have been finding out about Diwali. This is the five-day festival of lights, celebrated by Hindus, Sikhs and Jains. The word Diwali comes from the Sanskrit word deepavali, meaning rows of lighted lamps. During this festival, people decorate their homes with lights and oil lamps called diyas. Rangoli is a popular Diwali tradition – beautiful patterns made using colourful powders and flowers. These patterns are drawn on the floor by the entrance of their homes to bring good luck. Celebrations often include fireworks.
Here is a collage of photographs from our learning experiences this week.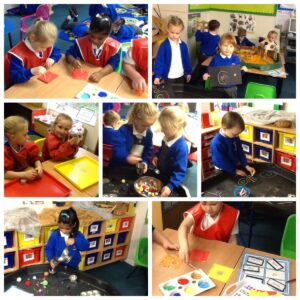 Can you spot:
Dot painting our own Rangoli patterns using cotton buds dipped in paint.
Firework patterns drawn using chalk.
Exploring colour and patterns using sparkly objects.
Making our own version of diya lamps using clay.
We also watched some clips on CBeebies to find out more about Diwali.
In addition to this we joined in with celebrating World Nursery Rhyme Week with favourite rhymes, including The Wheels on the bus and Old MacDonald.