Get ready for Bike To School Week: 28 Sept – 2 Oct 2020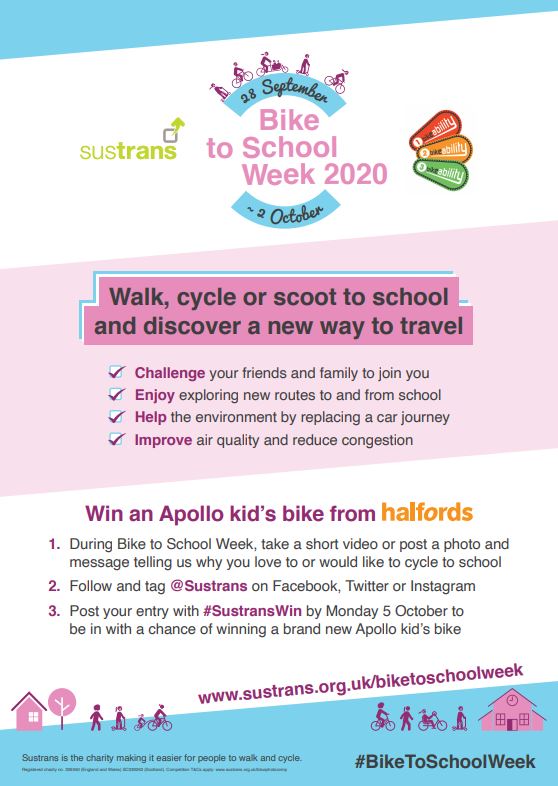 As pupils have return to school following lockdown, active travel is more important than ever to help pupils get to school safely and healthily. The start of term is a great time to establish positive travel habits early. We're taking part in Bike To School Week to help encourage children, wherever possible, to get on their bikes.
Children are invited to cycle to school next week. There are storage facilities for bikes at the front of school and also on the KS2 playground. We'd love to see as many children as possible take part.
Jonathan from Sustrans will be at school on Thursday 1st October to carry out free maintenance checks in one of his popular 'Dr Bike' surgeries.
Here are some links you may find useful:
M check video – how to quickly assess the safety of a bicycle
Free family guide to a hassle-free school run
Photo competition
We will be running a photo competition during the Bike To School Week – we'd love to see your photos and have some fun, bike-related gifts to award. Please take a photo of your child on their bike and send it to: p.mason@southill.dorset.sch.uk
You can also send it to Sustrans to be in with a chance to win an actual bike! https://sustrans-info.org.uk/6EB-71DF8-J9RDJZ-46UR9C-1/c.aspx
---
Occasional lunchtime staff wanted
We are looking to appoint some new Midday Supervisory Assistants to work at lunchtimes as required. This will be on a casual basis to provide cover for staff absences. The hours are 11.45 am – 1.15pm. Duties include supervising children while eating and at play.
If you are interested in being added to our list of occasional lunchtime staff, please contact Mrs Howe in the school office.