Teachers for next year
I am finally in a position to be able to tell you the arrangements for our class teachers and teaching assistants next year. Your children will be meeting their new teachers on the afternoon of Tuesday 5th July.
Reception: Mrs Puddick, Mrs Kench and Mrs Thorne
Year 1: Miss Curtis, Mrs Jones
Year 2: Mrs Knight (Monday to Wednesday), Mrs Clark (Thursday and Friday), Mrs Harris
Year 3: Miss Hutton, Mrs Symonds
Year 4: Mr Prior, Mrs Wallis, Mrs Walkinshaw
Year 5: Mrs Butler (Monday and Tuesday), Mrs Hill (Wednesday – Friday), Mrs Aitken
Year 6: Miss Savage, Mr Bell
Mrs Knight and Miss Hutton are new to Southill and join us with excellent references from their previous schools and a day of interviews where they were put through their paces by some of our pupils and governors as well as Mrs Wood and myself. We are very pleased with both appointments and look forward to welcoming these new members to our staff team.
Mrs Murray continues with us as a cover teacher and a support teacher for pupils across the school.
Year 5 and Year 6 residential trips
It's a real privilege of my job to be able to accompany school residential trips. We consider these trips to be important for many reasons, but especially for the personal development opportunities they offer our pupils. It was a real pleasure then to take part in the recent Year 5 trip to the Wye Valley. The class took part in activity sessions themed on the Stormbreaker novel they have been reading in class. They also spent a day canoeing on the River Wye, in a trip that involved a 6-mile journey from England into Wales, with rapids to be navigated along the way. It was an unforgettable experience and the staff were very proud of the positive attitude and behaviour of the pupils while we were away. They were a pleasure to be with. Please see their blog post on the website for some pictures.
My thanks to Mrs Hill, Mrs Butler and Mrs Aitken for giving up their time for this trip.
Next, it's the turn of our Year 6 class who are off to Cornwall this week to visit the Eden Project, and go surfing, amongst other things. We wish them all a happy and memorable time.
Leaving gifts and messages for Mr Price
As I mentioned in my previous newsletter, Mr Price is retiring at the end of this term. As a long-standing member of staff, there will be many parents and members of the community who know him and/or were taught by him. You are therefore invited to donate to his leaving gift in either, or both, of these ways:
1.    A financial gift to contribute to the collection already being made in school. Please see the school office staff.
2.    A message for inclusion in our commemorative book. Please email Mrs Wood: cwood@southill.dorset.sch.uk
Term dates for 2022/2023
I am also now able to supply our inset dates for the next school year. In most cases, these dates have been added either side of an existing school holiday. All the dates are on our school website for reference.
---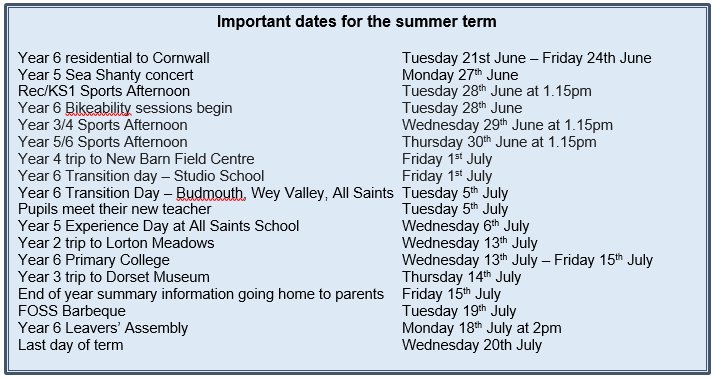 ---
Other messages for parents and carers