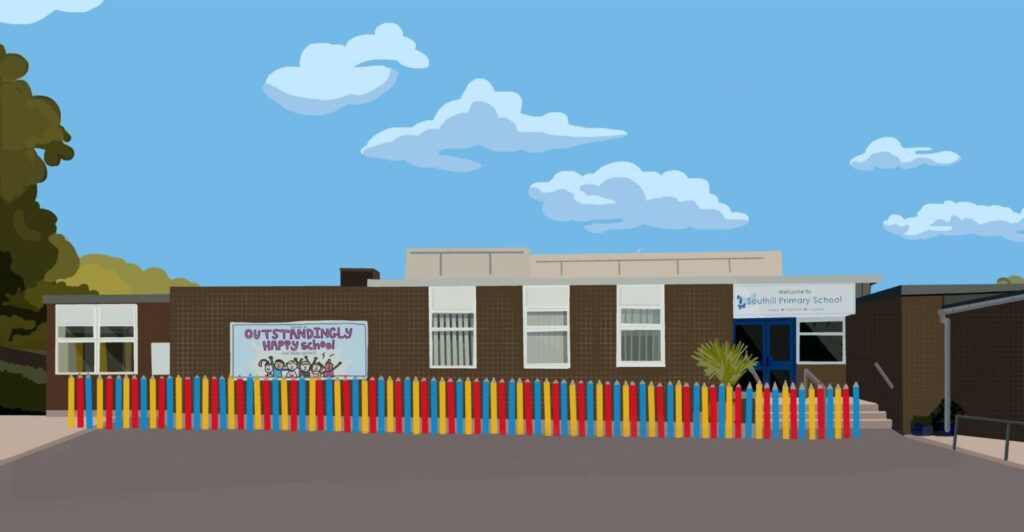 Southill Primary School is situated on the outskirts of Weymouth. It was completed in 1973 to serve a largely private residential development built around the same time. One third of pupils come from outside our catchment area.
The single-storey building has a separate reception classroom and three two-classroom units. Each classroom shares a practical area that divides the unit into separate bases. The school is a one-form entry primary school. There is a well-equipped hall used for assembly, dining and curriculum activities and also a school library.  In addition to learning space there is a staff room, headteacher's room, meeting space, secretary's office, kitchen and PE store complete the accommodation.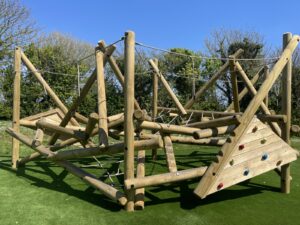 The school has extensive grounds comprising two large playing fields and two hard playgrounds, two climbing frames, trim trails, outdoor stage, woodland walk, pond, quiet garden and outdoor classroom. The grassed areas are used for all our sports activities. Two netball and basketball courts are also situated on the KS2 playground.
Organisation
There are seven year groups accommodated in individual classrooms and class sizes average 30 pupils. As of November 2023, the number on roll is 210.
Staff are led by a Headteacher and Deputy Headteacher. All staff have curriculum responsibilities and plan creative schemes of work each term. Curriculum planning takes place in teams. The school uses the Talk For Writing programme from Reception to Year 6 and teaches maths using them White Rose scheme.
Building Learning Power
The school's ethos is built upon the four learning powers advocated by Professor Guy Claxton – resilience, resourcefulness,
reciprocity and reflectiveness.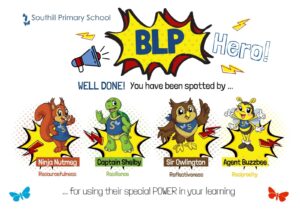 Links between the powers and children's learning are discussed daily and exemplified by all the staff. We celebrate children's achievements and successes in a special assembly each week.
Staffing
At present there are seven full-time equivalent teaching staff plus the Headteacher. There are eleven teaching assistants, working to support children's learning individually or in groups. The staff also includes three office staff who provide clerical, admin and finance support, five midday supervisors, two kitchen assistants, a caretaker and cleaner. Support staff are valued and make substantial contribution to the school. Many parents voluntarily help in school.