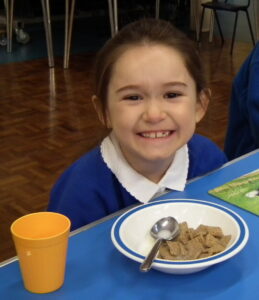 Mrs Harris and Mrs Sharpe provide excellent quality childcare for the children of our school aged between 4 and 11 from 8am each day.
Each day we set out different activities including board games, jig saw puzzles, lego, colouring, word searches and books before offering a nutritious and filling breakfast with a choice of cereals and toast.
While the children are finishing breakfast we share a story together before the children go to their classes ready for learning.
The cost of a session is £3.10 per child and includes breakfast and activities. Spaces are available on a weekly basis or for parents who might only require the occasional day, or sessions with little notice.
Please see Mrs Sharpe in the school office or email k.sharpe@southill.dorset.sch.uk with any Breakfast Club queries.
Bookings are made via our ScoPay system.